News/Events
Updated NOTE: Beginning on Monday, March 16, 2020, public access to the Pulaski County Courthouse is restricted through March 31, 2020, to limit public exposure to COVID-19.
The Pulaski County Judge has extended the restrictions on public access to county buildings and other precautions through June 14, 2020.
The Pulaski County Circuit and County Clerk's employees are working weekdays 8:00 a.m. to 4:00 p.m. Business should be conducted online, by phone, or email if possible. Please contact the appropriate department for more details.
---
Arkansas Supreme Court Order (per curiam) In Re Response to the COVID-19 Pandemic (Chief Justice Kemp, April 3, 2020)
6th Circuit Courts of Pulaski and Perry Counties Emergency Order Deferring Requests for Writs of Possession (Judge Smith, March 17, 2020)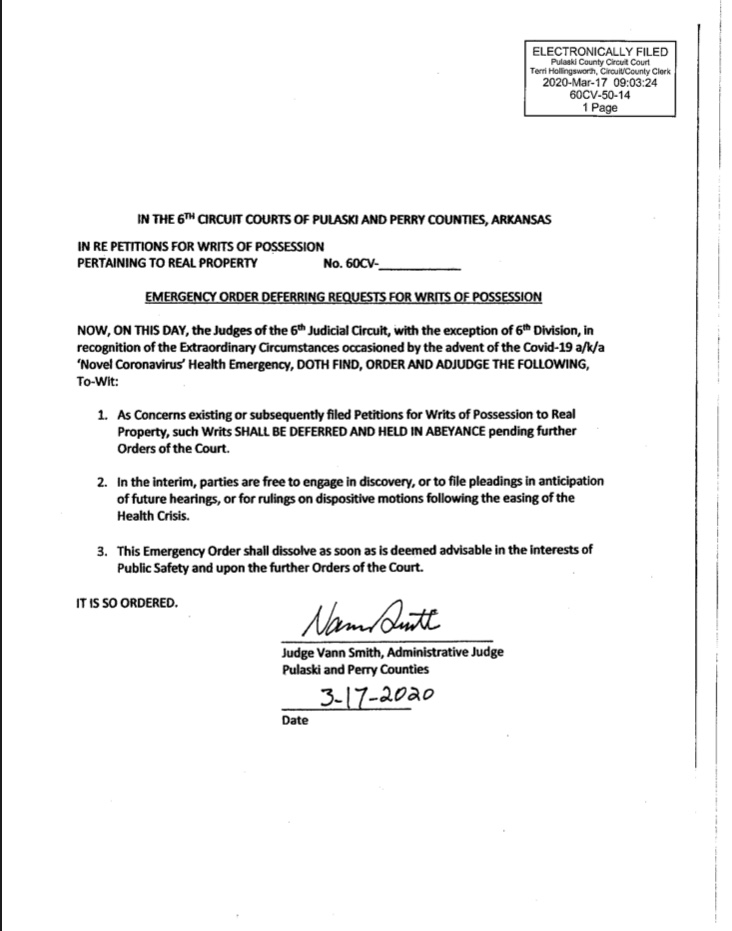 ---
2020 Candidate Filing Information
Elections
Jacksonville City Council Special Election is now on Tuesday, June 9, 2020
EARLY VOTING BEGINS: Tuesday, June 2, 2020
March 3, 2020 Preferential Primary/Nonpartisan General and Annual School Election
Arkansas House Distict 34 Special Elections
Official Results State House District 34 Special Primary Runoff Election February 11, 2020
Official Results State House District 34 Special Primary Election January 14, 2020
2019 Elections
Arkansas House District 36 Special Election - November 5, 2019
Annual School Board Elections - November 5, 2019
Be A Poll Worker
Quorum Court and County Government
Video for Pulaski County Quorum Court meetings now online
Search Pulaski County Ordinances
Auction Notices
NOTE: Until further notice, Commissioner Sales will continue to be offered on Thursday afternoons at 12:00 p.m. noon. As the courthouse building is closed, they will conducted outside the building at the Markham Street entrance. The next scheduled sales are Thursday, July 2, 2020.
2019 Pulaski County Annual Financial Report
E-Filing
E-Filing is mandatory!
5 Reasons to Sign Up for E-Filing
File 24/7/365 from anywhere in the world.
Receive Immediate E-mail Notification of Filings for your Cases.
"MY CASES" Feature Provides a Personalized Online view of your Cases and Documents.
Documents at all Security Levels will be Available to you online for your cases.
Online Access to documents from current and closed cases reduces the need to store paper documents at your office.
View Poster for additional details.
For more information on e-Filing, click here or call our office at (501) 340-8412.